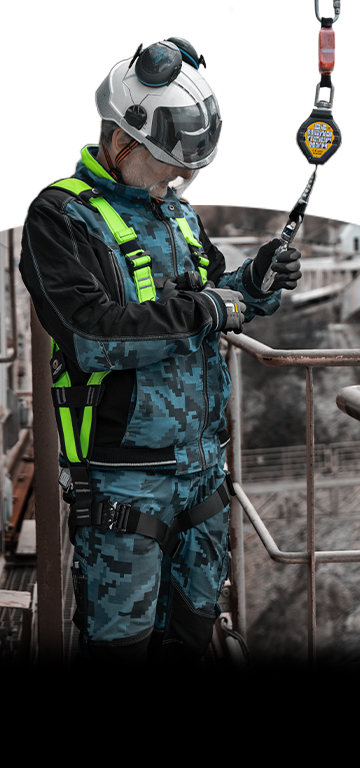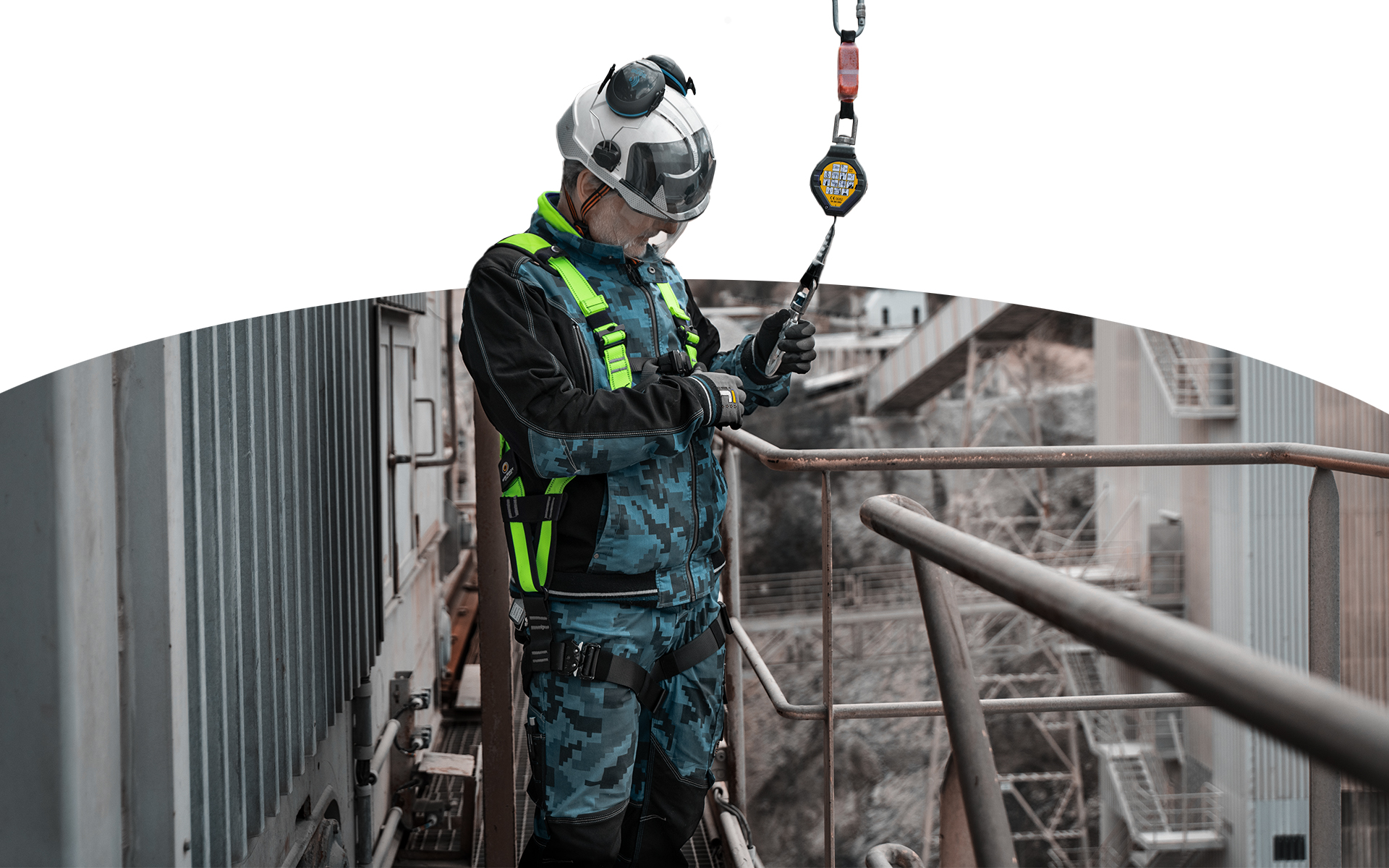 Although fall protection is mandatory in many workplaces, it is often neglected, and the risk of falling is taken lightly. However, it is not worth underestimating it, as it is the third most common cause of fatal occupational accidents. Go through the simple numbers with us: the reaction time of a person to an unexpected event is approximately two seconds. During this time, a person falls almost 20 meters down and reaches a speed of 71 km/h. In short, all it takes is a slight hesitation or a moment of inattention for misfortune to happen. Read how together we can significantly reduce the fall hazard.
When is fall protection required?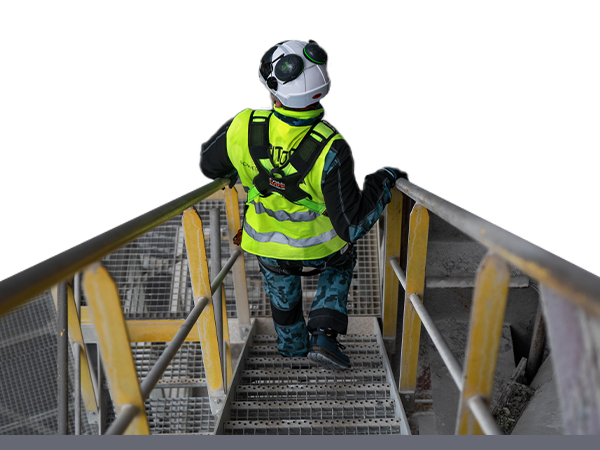 When is fall protection required?
Fall protection is needed when there is a risk of workers falling from height, either by elevation or depression. OSHA requires that fall protection be provided at elevations of four feet in general industry workplaces, five feet in shipyards, six feet in the construction industry and eight feet in longshoring operations. In addition, OSHA requires that fall protection be provided when working over water or dangerous substances, equipment and machinery, regardless of the fall distance.
Guardrail and Safety Net Systems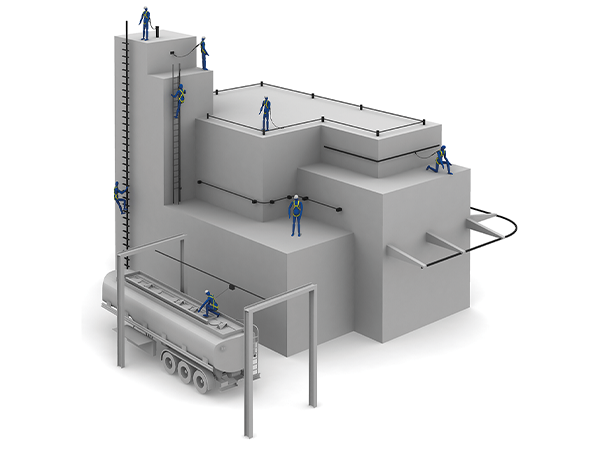 Guardrail and Safety Net Systems
We offer the design, installation, maintenance and revision of fixed safety systems: protective structures that completely prevent a fall, such as guardrails, rooftop walkways and crossovers, or hatches above thein case ofesting structures that catch the worker in time in the event of a fall - arresting scaffolding, railings or nets. We always design these systems for a specific situation and install them permanently on buildings or structures.
If you are interested, please contact our sales representatives. Our technician will come to the site and, in cooperation with you, will come up with the best solution for safe work performance.
The systems are certified according to EN795 and EN353-1 standards
In places where a protective structure cannot be installed, a safety net is often the best solution. We sell, rent and install safety nets. We deliver and install them following the EN 1263-1 standard. If you are interested, please contact our sales representative.
Basics of working at heights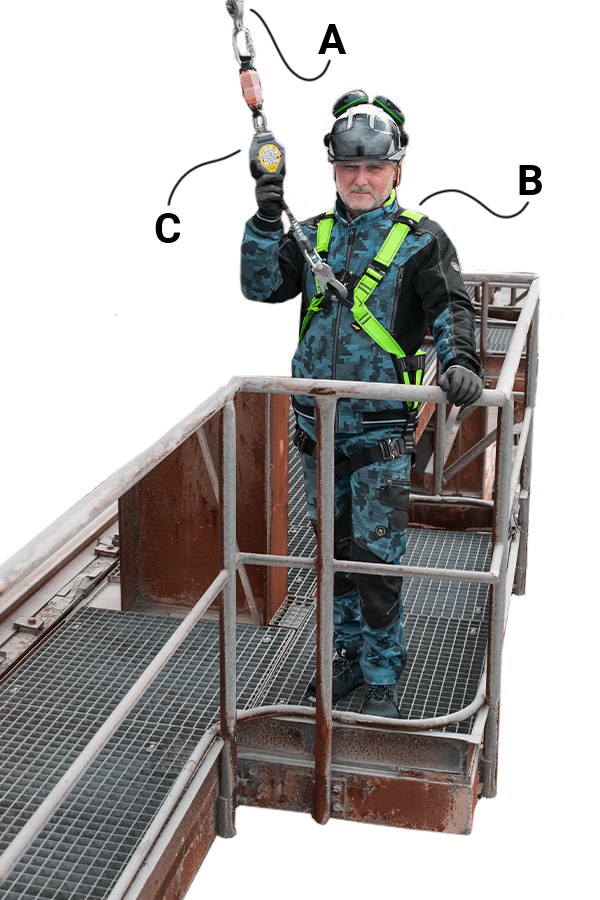 Basics of working at heights
The basic components of fall protection are described by the ABC system:
A: Anchoring
B: Body (harness)
C: Connection
The system only works, as soon as one part is missing, it cannot be used.
A – Anchor point / anchoring equipment
The anchor point can be a profile beam, scaffolding, beam or other structural point. Installed anchor points are usually marked with a distinctive color. Do not use non-certified anchor points. Never use places with unknown or questionable load capacity for anchoring!
Anchoring devices can be placed permanently (horizontal or vertical cable or rail systems, permanently installed anchor points) or only temporarily (anchor loops or cables, metal struts, scaffold eyes, portable strap systems, metal clamps, etc.).
B – Body harness
The full-body arresting harness is used to prevent the risk of falls, for work positioning or for work suspended on a rope.
All our harnesses meet European fall arrest standards. They differ in other added functions or elements that increase the comfort of use, such as quick-release buckles or strap padding.
The positioning belt serves to prevent entry into places where there is a risk of falling. However, it does not replace a restraint harness.
C – Connecting devices (rope with a shock absorber, self-retracting device, or positioning means)
They are used as an intermediate link between the worker's arresting harness and the anchorage device. This is, for example, a fall absorber with a rope or a retractable fall arrester.
There are two types of fasteners:
restraint systems - Fall restraint systems protect workers from reaching a potential fall hazard by limiting their proximity to it. These systems eliminate the possibility of falling by tethering workers so that they cannot physically fall any distance. Fall restraint devices are not meant to position or hold you in place so that you can perform hands-free work.
a fall arrester reduces the consequences of a fall. Fall arrest systems differ from fall restraint systems in that they protect you when you are already in the process of falling.
Good to Know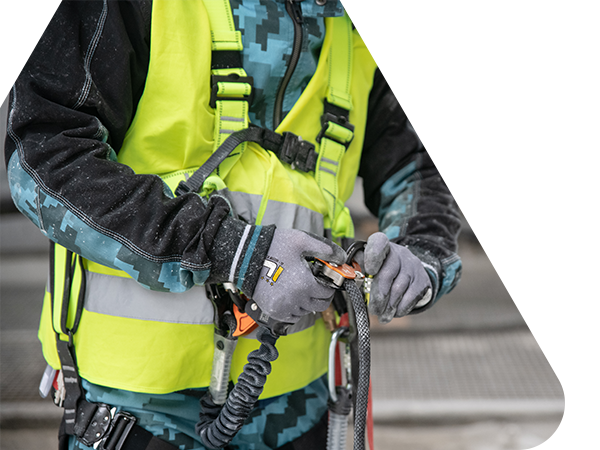 Good to Know
An important part of the entire system of using protective equipment against falling is an evacuation and rescue plan. Every worker and responsible persons supervising work at heights must be familiar with this plan.
Follow the principles of safe use of fall protection devices and rules for working at heights. Before each use of fall protection devices, check that they are in good working order.
No product may show signs of damage or have a defect that affects its function.
Follow the manufacturer's instructions for use when using fall protection equipment.
Each of the mentioned means is subject to regular revision control, every 12 months from the first use. The service life of these products is specified by the manufacturer in the instructions for use.
Brand new FALL PROTECTION catalogue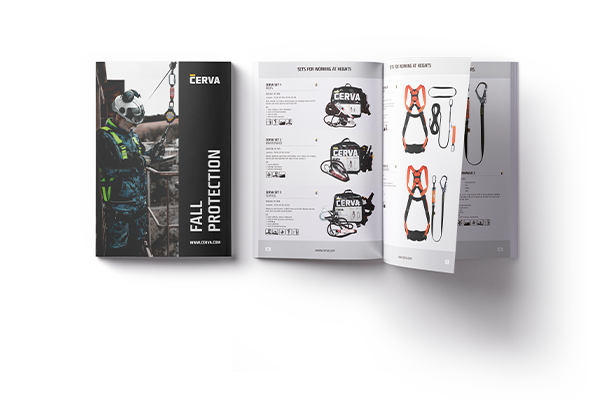 Brand new FALL PROTECTION catalogue
Check out our fall protection products and effective solutions in our new catalog. We are constantly expanding our product range, so you will find not only years-proven bestsellers, but also brand new products.