The risks associated with the whims of the weather can be easily divided into two categories – cold and rainy weather conditions. We will advise you how to outsmart bad fall weather in waterproof clothing in which you will not sweat, and we will also show you what will reliably protect you at work even during cold winter months.
Our tip – in our product range, you will find not only products that will protect you from rain or cold, but also products that will protect you from both risks at once and ensure that you will be seen even in reduced visibility conditions.
EN 343 – Protection from rain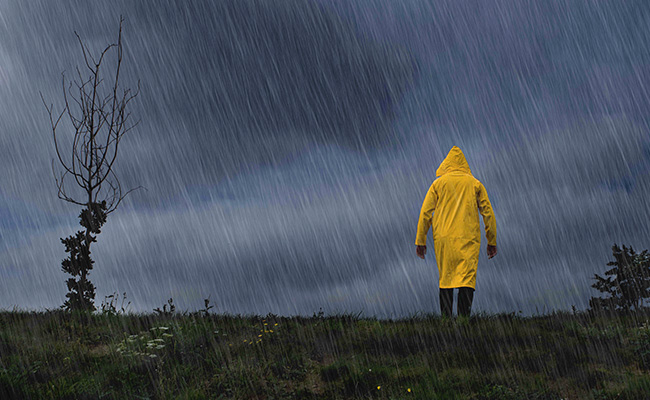 EN 343 – Protection from rain
If you want waterproof clothing, it may not be enough that it is made of waterproof material. A seam design, through which water cannot pass, is just as important. These materials and seams are addressed in the EN 343 standard. Clothing that complies with the above standard can withstand not only rain but also snow (water resistance) and facilitates moisture wicking from the clothing meaning that you will not get that sweaty in it (breathability).
Water resistance is expressed in the form of a waterproof rating (mm) and its testing includes pre-treatment – 5 washing and drying cycles, abrasion, the effects of fuels and oil and repeated bending (9,000 cycles). Clothing falls into one of 3 classes based on resistance.
Water resistance (resistance to water penetration)
| | | | |
| --- | --- | --- | --- |
| | Class 1 | Class 2 | Class 3 |
| Material before pre-treatment | ≥ 800 mm | not tested | not tested |
| Seams before pre-treatment | ≥ 800 mm | ≥ 800 mm | ≥ 1300 mm |
| Material after pre-treatment | not tested | ≥ 800 mm | ≥ 1300 mm |
Breathability is measured by the value of resistance to water vapor (Ret) m2.Pa/W according to which clothing is categorized into 3 classes. At the same time, the lower the number, the better the vapor permeability of the material.
Breathability (resistance to water vapor)
| | | | |
| --- | --- | --- | --- |
| | Class 1 | Class 2 | Class 3 |
| Ret (m2.Pa/W): | > 40 | 20 < Ret ≤ 40 | ≤ 20 |
EN 342 – Protection against cold
EN 342 – Protection against cold
Choosing the right workwear for the cold winter months is an important part of work preparation.
Winter workwear and footwear represent a wide range of clothes and accessories that will keep you warm. If you make the right choice, you will be equipped even for harsh working conditions, and temperatures below freezing will not have a negative effect on your performance.
The choice of winter workwear is relatively wide and will provide you with protection for literally every part of your body. Now what should complete winter workwear consist of? The basic item is definitely a work jacket which you can complement with thermo-insulated pants. Also, you should not forget to protect your hands, palms and fingers in the form of winter work gloves. Everyone also wants to avoid ending up with frozen toes, which is reliably prevented by wearing occupational winter boots. Last but not least, do not forget about suitable accessories, such as warm winter headwear or performance socks.
Our tip: Thanks to the material from which it is made, our winter workwear will keep you perfectly warm, it insulates from external influences and simply makes you confident in cold weather conditions.
What standards should you use when choosing clothing?
When choosing your workwear, always keep the specific place and situation in mind. Do you spend the whole day working outside, often in rainy weather? You'll need the EN 343 standard compliant workwear. Is there a work-related hazard of getting chilled as well? Then your clothing should comply with EN 342.
Do you carry out the road works, too? You'll need workwear that is additionally compliant with the EN ISO 20471 standard. You can learn more about the last mentioned standard and general protection against risks associated with reduced visibility conditions here.
Do not underestimate cold or rainy weather. During cool fall mornings or early evenings, you may unfortunately get cold, and if rain adds to the vagaries of the weather, too, you may even end up falling sick. However, with our workwear and footwear, you will be able to protect yourself effectively.