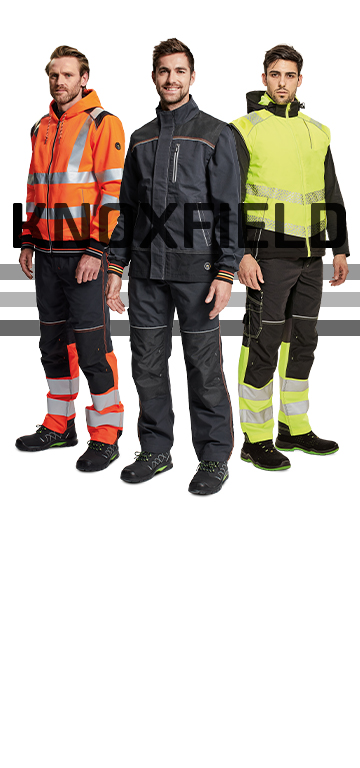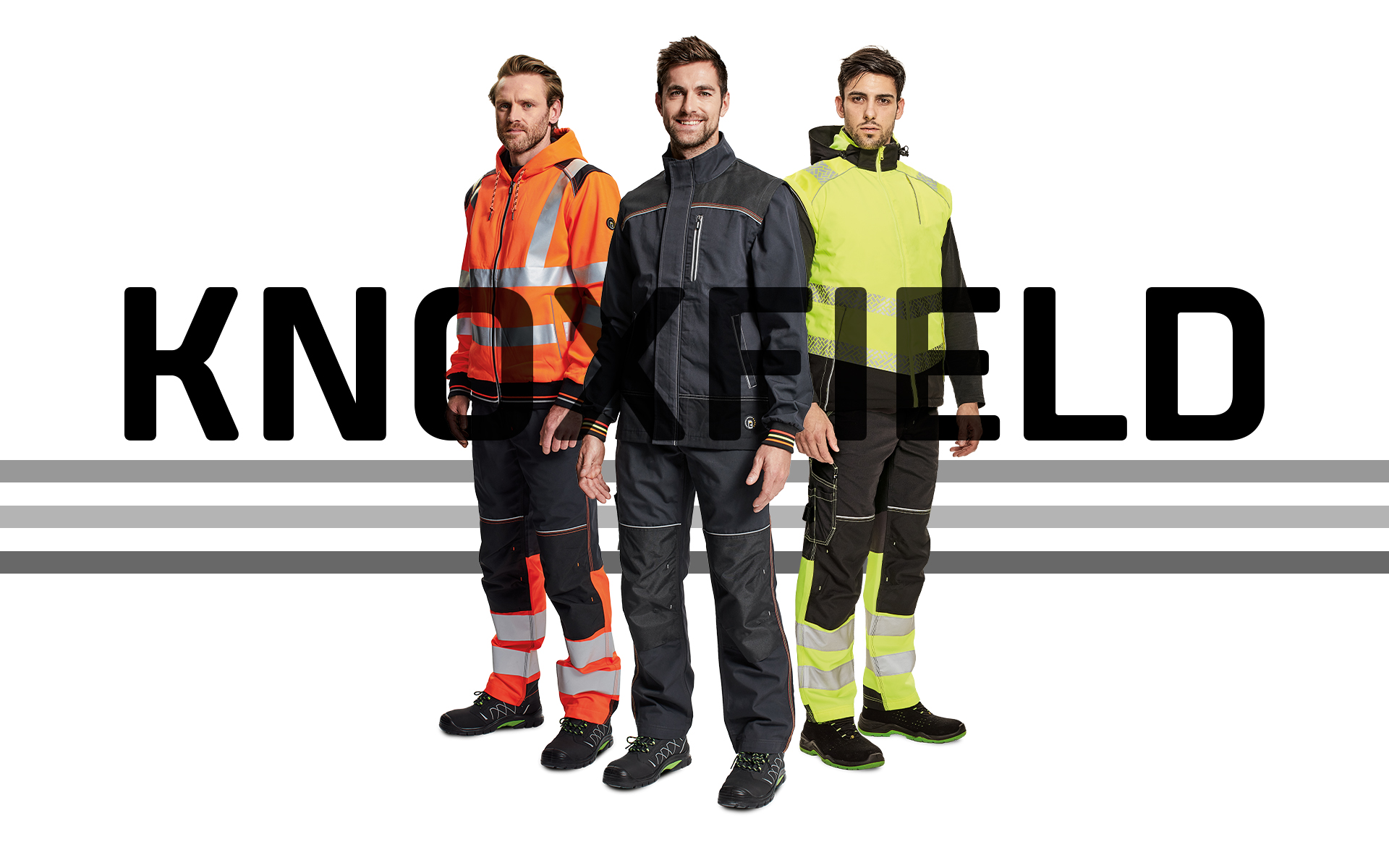 Functional and modern workwear that fits. The individual clothes match each other perfectly, and they also meet the requirements for HI-VIS equipment. This was the principal idea of our designer Tomáš Hybler which he transformed into the unique KNOXFIELD collection. It offers clothing suitable for year-round use even in challenging weather conditions, which can be combined as desired.
The KNOXFIELD collection includes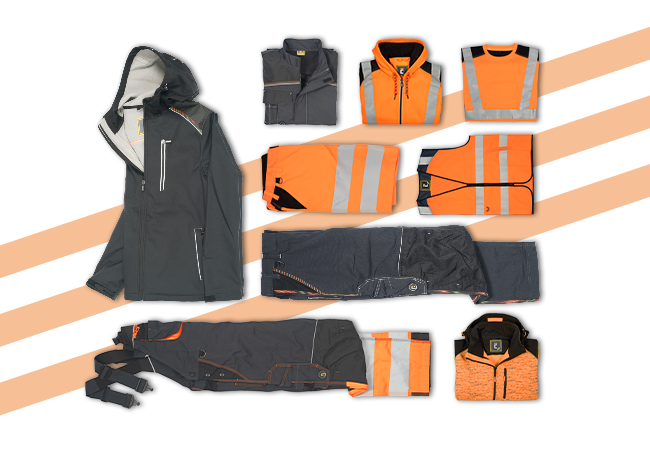 The KNOXFIELD collection includes
These are the KNOXFIELD collection products:
work and HI-VIS waist pants
work and HI-VIS bib pants
work and HI-VIS shorts
work and HI-VIS jackets
work and HI-VIS shirts
work and HI-VIS hoodies
work and HI-VIS softshell jackets
HI-VIS vests
KNOXFIELD winter collection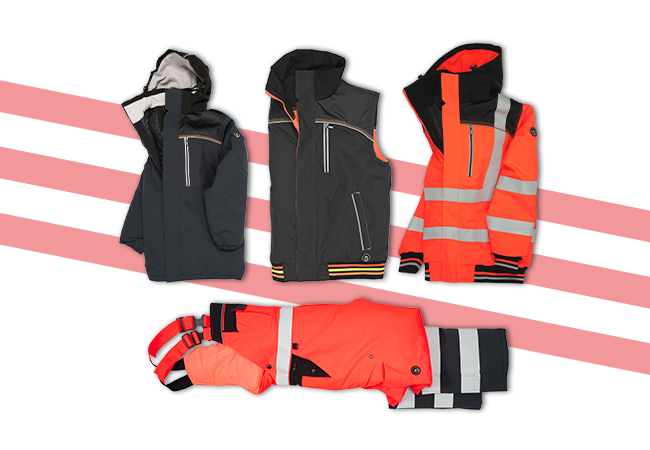 KNOXFIELD winter collection
These clothes are designed for chilly weather:
HI-VIS insulated bib pants with
work and HI-VIS parkas with extended backs
work and HI-VIS pilot jackets
HI-VIS double-sided insulated vests
KNOXFIELD PROFI collection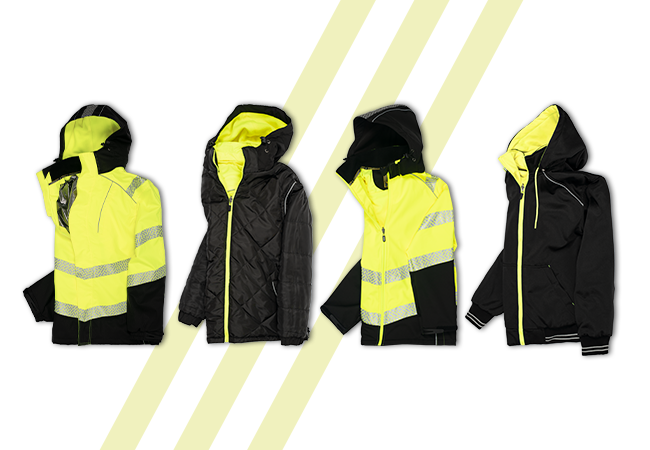 KNOXFIELD PROFI collection
The unique 4 in 1 solution is a parka to which one of the three inner inserts can be attached. It is up to you and the weather which combination you use. In addition, each garment can be worn separately.
The KNOXFIELD PROFI system consists of:
outer parka
inner reversible jacket/vest with detachable sleeves
inner softshell jacket
inner reversible sweatshirt
KNOXFIELD accessories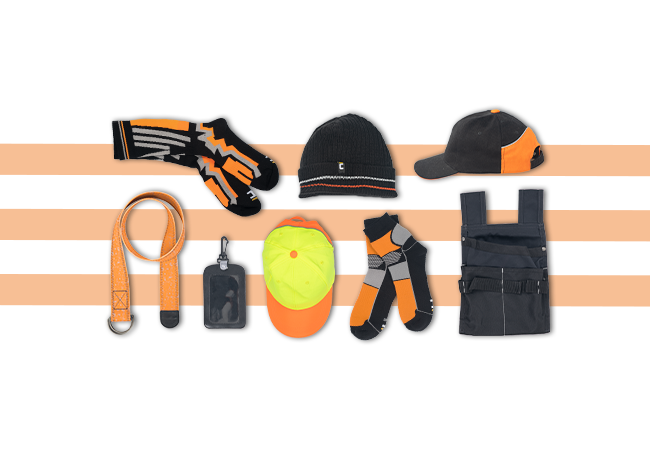 KNOXFIELD accessories
Complete your outfit with a variety of accessories such as:
cap
winter hat with peak
belt
socks
high socks
tool pocket
card cover

Why choose the KNOXFIELD collection?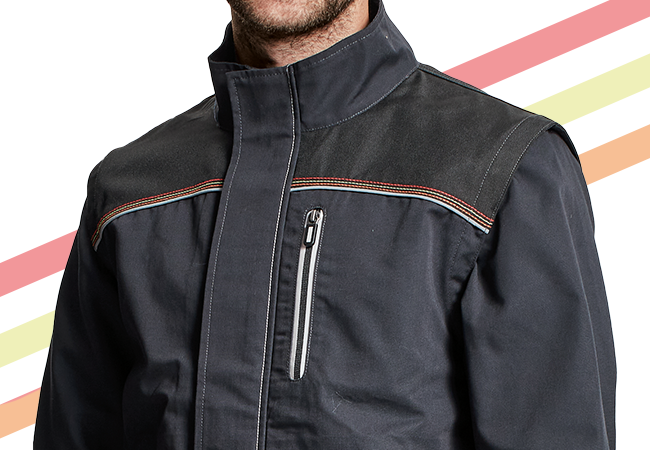 Why choose the KNOXFIELD collection?
Are you looking for clothes for year-round outdoor work, for example for road workers or builders? Or do you need to dress the workers in the factory or warehouse in the same style?
You cannot go wrong with the KNOXFIELD collection. Dress your team from head to toe, whether they work indoors or outdoors, in heat or cold. For all those who work outdoors and need to be seen, the HVPS range is designed to comply with the EN 20471 standard for professional use of high-visibility clothing. You can match clothes from all three lines HVPS, RYO and PROFI with each other as needed. The entire collection is characterized by quality workmanship, a comfortable cut that allows freedom of movement in all circumstances, and a thoughtful choice of materials. The clothes are made of a breathable polycotton blend, and the stressed parts are reinforced with durable polyester OXFORD 600D fabric. There are also practical details such as multifunctional pockets, tool loops or detachable hoods and sleeves on jackets and vests. The functionality and wide range of use of the entire collection are then emphasized by matching accessories.
THREE SERIES OF THE KNOXFIELD COLLECTION
KNOXFIELD RYO (Red, Yellow, Orange)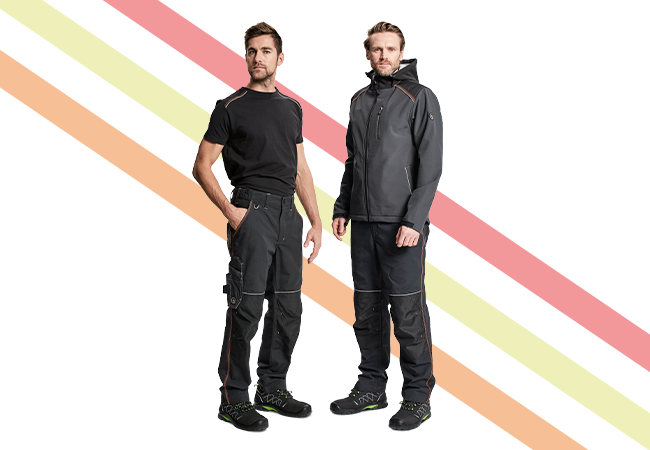 KNOXFIELD RYO (Red, Yellow, Orange)
In the RYO line, you will find all the clothing needed for both indoor and outdoor work, including a T-shirt and sweatshirt. The base color of most models is black or anthracite supplemented with contrasting stitching in 3 colors, red, orange and yellow. These three distinctive colors appear again on the sleeve cuffs and the elastic band at the waist. All models of the KNOXFIELD RYO series are additionally equipped with reflective accessories and details that make them usable even in poor light conditions. The RYO range offers clothes suitable for year-round use, from T-shirts and shorts to winter parkas and pilot jackets.
KNOXFIELD HVPS (High Visibility Print Stripes)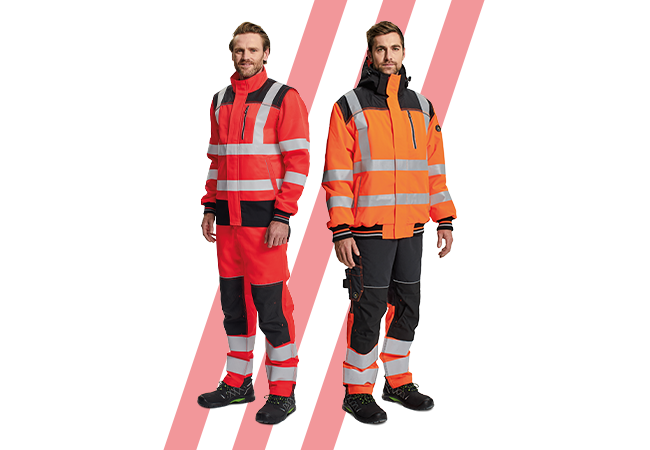 KNOXFIELD HVPS (High Visibility Print Stripes)
The range of HVPS warning clothing is specially designed for road workers, railway workers and all other professions who work outside all year round and need to be seen at all times. In this line you will find clothing in warning colours red, orange, and yellow with printed reflective stripes. Individual models differ in the size of the reflective surfaces, so you can easily assemble a complete outfit corresponding to classes 1 to 3 of the EN 20471 standard according to the safety requirements of your profession. The HVPS range offers clothing designed for hot days, such as shorts, T-shirts and light vests, and also garments providing thermal comfort in freezing weather: insulated bib pants, bodywarmers, pilot jackets and parkas.
KNOXFIELD PROFI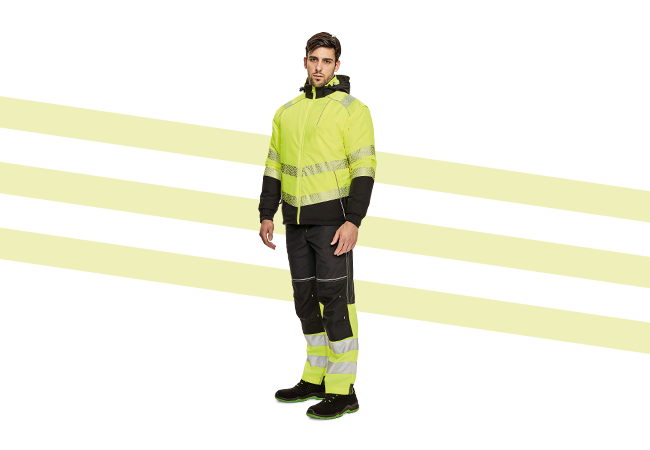 KNOXFIELD PROFI
The PROFI range includes a reversible sweatshirt, a softshell jacket, an insulated reversible jacket with detachable sleeves and a waterproof windproof jacket, all models in HI-VIS design (warning yellow with printed segmented reflective stripes in combination with black). Each of these jackets can be worn separately, but they were designed to be combined with each other.
How does it work?
A waterproof windproof jacket with thermal insulation lining serves as the top layer. You can easily zip another jacket or sweatshirt from the PROFI line into it, depending on the weather and your needs. The inner jacket can also be worn two ways, with either the HI-VIS design, or the black one on top. The KNOXFIELD PROFI series will protect you from wind, rain, and cold, and will also guarantee that you are always seen, even in the dark or fog.
CUT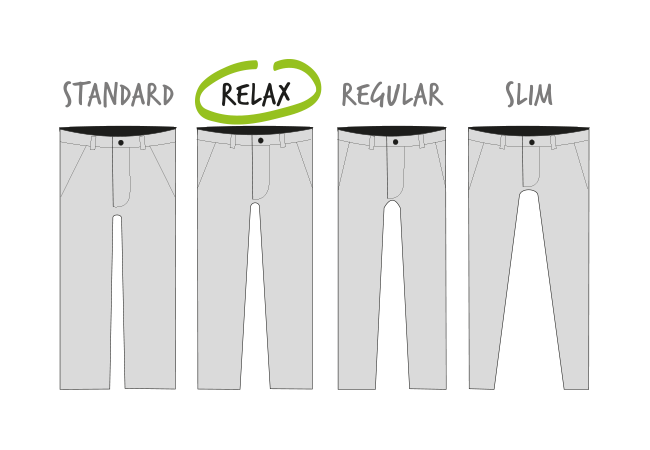 CUT
All pants in the collection are designed in a RELAX cut. What are its features?
cut with a slightly lowered waist
the leg is slightly tapered from the thigh to the knee
the lower circumference of the leg corresponds to the width of the circumference at the knee
fits all body types

CHECK OUT ALL LINES OF THE KNOXFIELD COLLECTION

COMPLEMENT YOUR KNOXFIELD OUTFIT WITH FOLLOWING PRODUCTS