Fall protection is often taken lightly, although its underestimation often results in fatal consequences. It is surprising how often it is neglected. If only everyone used simple math. Human response time to an unexpected event is approximately 2 seconds. During this time, you can drop 19.6 m by free fall and reach a speed of 71 km/h. Just a little mistake may have dire consequences. To help minimize these hazards, we present our range of fall protection products to you.
Collective fall protection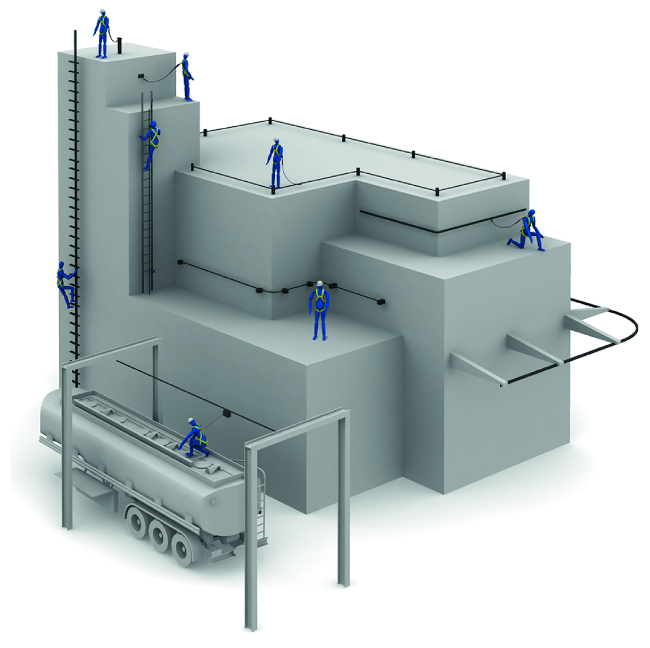 Collective fall protection
We offer designing, installation, maintenance and inspection of fixed fall protection systems. These include systems installed on buildings or structures that serve as anchoring means for maintenance or activities performed at heights. These systems are always designed for a specific situation and are permanent at the installation site.
If you are interested, please contact our sales representatives. A technician responsible for the design will arrive on site and work with you to design the best solution for safe work.
The systems are certified according to EN795 and EN353-1.
We offer sales, rental and installation of safety nets. Nets are the optimal solution in places where other fall protection methods are ineffective due to complex installation and coverage of only a small area needed for work. We supply and install nets according to EN1263-1. If you are interested, please contact our sales representatives.
When you need fall protection
In work positions and on access roads located higher than 1.5 m above the surrounding level or next to free depth exceeding 1.5 m.
In all other work positions and access roads located at any height above the water or above substances posing a risk of injury or death in case of fall, e.g. by burning, acute poisoning and suffocation.
Basics of working at heights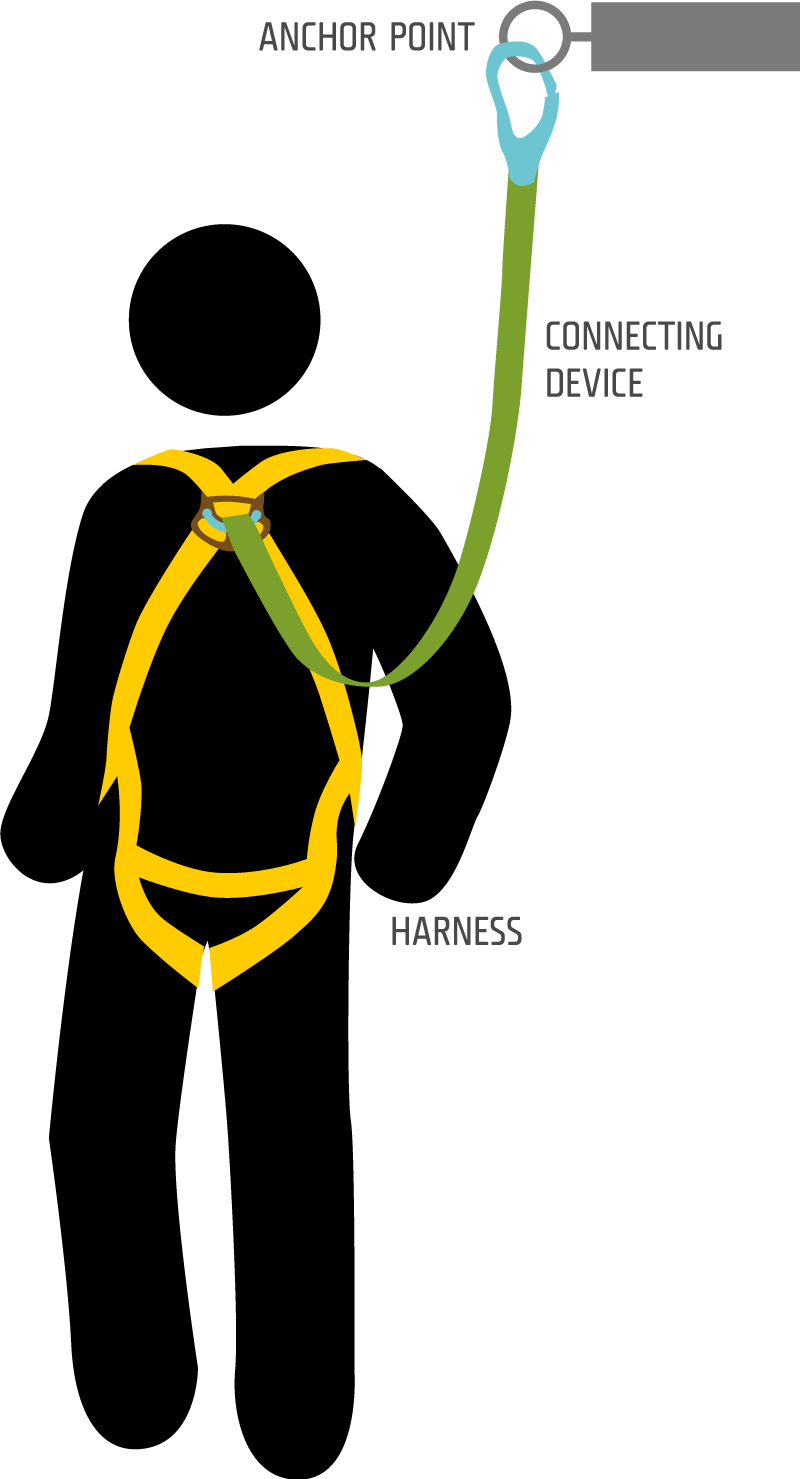 Basics of working at heights
The basic components of fall protection are described by the ABC system:
A – Anchoring
B – Body (harness)
C – Connection
The system always works only as a whole, without any part it is non-functional.
A – Anchor point / anchoring equipment
Anchor point: section beam, scaffolding, beam or other structural point. Installed anchor points are usually marked with a distinctive color. Do not use uncertified anchor points. Do not use points with unknown or questionable load-bearing capacity for anchoring!
Anchoring equipment is divided into two types:
permanent anchoring: Horizontal or vertical cable or rail systems. Permanently installed anchor points.
temporary anchoring equipment (anchor loops or wire lanyard, metal anchors, scaffolding loops, portable strap systems, metal clamps, etc.)
B – Body harness
Is used for fall arresting
a full-body harness is used in places with a risk of falling
at the same time, it can be used for work positioning or allows rope access works
all harnesses meet the European standards for fall arrest. They differ in other added functions or elements increasing comfort of use, such as quick buckles or padding of individual straps.
a positioning belt is used to prevent entry into areas with a risk of falling and cannot replace a harness
C – Connecting devices (rope with a shock absorber, self-retracting device, or positioning means)
They are used as connecting devices between worker's harnesses and anchoring equipment.
(e.g. fall arrester with a rope, retractable fall arrester, etc.).
Connecting devices can be of two types:
restraint system: a restraint system eliminates the risk of falling; it keeps a worker away from the danger zone with a risk of falling, it has a preventive effect
fall arrester: restraint system limiting the consequences of the fall itself. It includes shock absorption
What's good to know
An important aspect of the entire fall protection system is having an evacuation and rescue plan. Every worker and persons responsible for working at heights must be familiar with this plan.
Observe the principles of safe use of fall protection equipment and working at heights. Before each use of a fall protection device, it must be checked that it is in perfect working order.
No product shall show any visible signs of damage or malfunction.
When using fall protection means, follow the manufacturer's instructions for use.
Each of these devices shall be subject to regular revision every 12 months from the first use. The service life of these products is specified by the manufacturer in the instructions for use.