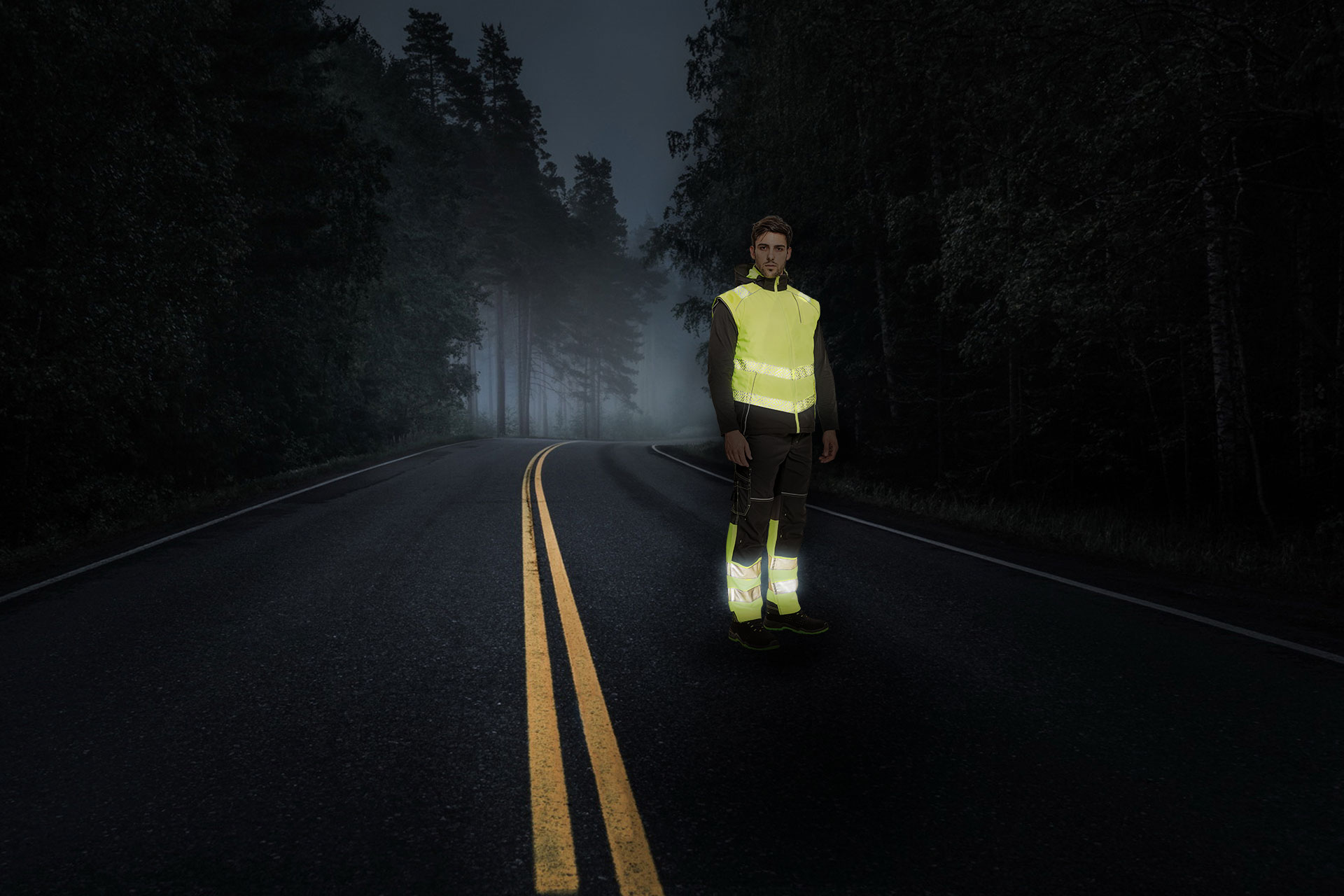 Night road + reflective garments = VISIBILITY
With reflective garments, your visibility on the road is up to 10 times better. How to make the right choice of these garments?
Nearly two-thirds of all accidents with pedestrian casualties take place at night. That is one of the reasons why, in 2016, an amendment to the Act on Road Traffic was enacted, requiring pedestrians to wear reflective elements under reduced visibility.
Hi-Vis garments, i.e. clothing with reflective elements, indeed, increase the visibility of a pedestrian up to ten times. Consequently, the odds that the driver will see you in time are much higher.
In addition, it is also important that you wear the reflective elements at the correct places. They should be visible from the front, from the back as well as from the sides. Such reflective elements then stand out, catching the driver's attention at a distance of up to 200 metres.
Statistics do not lie: less daylight = accidents go up by one-third
From October to December 2015, i.e. during the months when it is getting dark earlier, nearly 400 people were hit by car each month, on average. That is 100 more persons more than the monthly average for the entire year.
Reflective elements can reduce the number of autumn and winter accidents, not only in road traffic, but also at the workplace. In addition to construction workers, they can be certainly of great use for forestry workers or staff working at train stations and airports.
To the woods, constructions site as well as airport
It is these high-visibility elements that can significantly reduce the number of such accidents. Both in everyday traffic and at every workplace where employees move among any means of transport. In addition to construction workers, they are also of use for people working in the woods, at a train station or an airport.
Thanks to Hi-Vis clothing, employees are also better visible not only in the dark, but also in fog, rain or snowfall. They will be easily noticeable by their colleagues as well as by drivers passing through. And you will simply reduce the number of occupational accidents.
Regulations help making the right choice
The requirements for the high-visibility clothing of employees are defined in the 2013 standard EN ISO 20471, which replaced an older European standard EN 471 (that is, however, still applicable for clothing manufactured at the time when this standard was in force).
The new standard divides Hi-Vis clothing to 3 groups based on the minimum area of the materials used:
| | | | |
| --- | --- | --- | --- |
| Material | Class 1 | Class 2 | Class 3 |
| Underlying material | 0,14 m2 | 0,5 m2 | 0,8 m2 |
| Retro-reflective material | 0,1 m2 | 0,13 m2 | 0,2 m2 |
| Combined material | 0,2 m2 | - | - |
The standard determines also the positions and number of the high-visibility elements. For instance, higher safety classes require the stripes to delimit the figure - just a vest is therefore not sufficient.
The clothing should also have vertical high-visibility elements. They ensure that the employee will be easily visible also when bending down for a tool.
Which class to choose? That depends on the workplace
The choice of the corresponding class is related to the place where the employees work.
Class 1 - suitable for employees who do not find themselves on roads or rail tracks and who encounter traffic with a speed below 30 km/h.
Class 2 - is intended for workers who find themselves on roads and rail tracks without traffic or in their vicinity. The speed of the vehicles around them may not exceed 60 km/h.
Class 3 - the highest degree of safety, to be used by employees working on roads and rail tracks or in their vicinity where there is at least partial traffic.
The obligation to provide your employees with warning clothing is also set out in a government regulation. In order to ensure your compliance, you need to use clothing with certification under EN ISO 20471: 2013.
High-visibility clothing for the summer, in the rain and for freezing temperatures
Hi-Vis clothing will adapt to your needs not only in terms of safety, but also in terms of application. While, in the summer, employees often have enough with a high-visibility T-shirt or a vest, they will most certain appreciate a jacket with a warm lining in the winter.
Therefore, choose the clothing based on the conditions the employees can expect. And by the way - our range of warning clothing includes also high-visibility garments that are fireproof or offers an increased resistance to chemicals. So you will be able to use them in the most demanding operations.
Nincs mivel összehasonlítani.