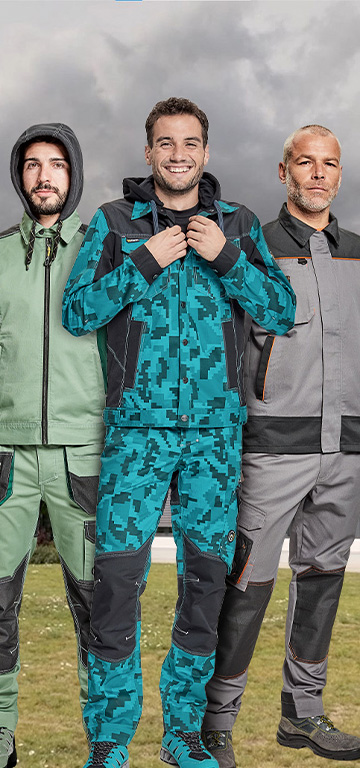 THE WORLD OF WORKWEAR
Discover the CERVA collections
THE WORLD OF WORKWEAR
Discover the CERVA collections
DAYBORO
The DAYBORO collection workwear is currently the most attractive clothing you can find in the latest CERVA catalog. Individual pieces from the collection are not only very functional, but also comfortable. In addition, we follow the latest trends, and we want you to look good in our new collection as well. Collection is made of the unique TRIFIBETEX® material, which is a combination of natural cotton, synthetic polyester and spandex fibers.
CREMORNE
Thanks to the 60% cotton content, the CREMORNE line garments are pleasant to wear, functional, breathable, and colorfast. They have a comfortable cut, ensuring comfort throughout the day. We have developed the Cremorne clothing for you in a light summer version as well as in a warm winter version. It also features smart details such as an elastic waist design, D-rings or practical pockets.
CIUDADES
The CIUDADES workwear collection is primarily designed for use in areas with warmer climates. It consists of a complete range of garments in a great variety of colors. The basis of the collection is a workwear line in lightweight material with a weight of 195 g/m2 and composition of 65% polyester and 35% cotton. Whole collection is distinguished by such unique comfortable feeling that you will not want to take it off. The material used and the cut of this collection also contribute to comfortable movement without restrictions. It is simply designed for everyone.
MAX
MAX is our widest and most well-known collection which combines simple design, quality materials and our comfortable Relax fit (with the exception of the MAX Winter line, designed in the Standard fit) which is suitable for almost all types of figures. An array of color variants offers designs for many end customers. A total of seven product lines of the MAX collection meet all the requirements for workwear, from the most basic designs to the most demanding ones, like high visibility clothing. Since this is a large family of garments, the individual lines can be combined with each other and therefore will always match. With its color combinations, the women's MAX workwear perfectly complements and supports the YOWIE leisurewear collection.
YOWIE
YOWIE is a women's collection of leisurewear with a distinctive style and design, which is reflected both in the cuts of individual models and in the color combinations with fine details of decorative prints. Yet, at the same time, it provides pleasant all-day wearing comfort and high functionality, thanks to numerous pockets and additional details. The YOWIE collection is ideal for gardening and other undemanding work.
CRAMBE
The comprehensive range of garments from the CRAMBE collection will equip you for work and spare time outdoors. Its camouflage print in 3 color shades is not only fashionable but also highly practical. The light weight guarantees freedom of movement, and a higher content of polyester contributes to durability and color fastness of the pants and shorts. The CRAMBE collection is designed for year-round wearing as it also includes softshell jackets, hooded sweatshirts and, most importantly, insulated pilot jackets. The lightweight CRAMBE vest with many functional pockets is also worth mentioning. It will find wide application not only at work, but also in leisure activities and hobbies.
CARL
Kolekce pracovních oděvů CARL byla vyvinuta na základě požadavků trhu s cílem vyhovět zákazníkům při účasti ve výběrových řízeních, pro získávání větších zakázek a pro zvýšení konkurenceschopnosti. Oděvy kolekce CARL vyhovují těmto požadavkům svým materiálovým složením, množstvím barevných kombinací, střihem, výbavou, jako je zesílení ramen bundy a kolen u kalhot, kde je možné navíc využít kolenních kapes pro vložení nákoleníků, a v neposlední řadě i modelovou skladbou. Jejich přidanou hodnotou je i široký výběr doplňkového sortimentu bezpečnostní obuvi, rukavic a ochrany zraku a sluchu. Sortiment výrobků kolekce CARL poskytne svému zákazníkovi dostatečnou ochranu a pohodlí pro práci jak uvnitř výrobních hal, tak i na venkovních stavbách.
HANS
The new HANS workwear collection was included in the product range on the basis of market requirements in order to satisfy customers when participating in tenders, to win larger orders and to increase competitiveness. With their material composition of 100 % cotton, HANS collection garments significantly enhance the comfortable feeling during strenuous all-day work. HANS garments will satisfy almost any customer requirements with lots of color combinations, cuts, features, such as reinforced shoulder areas of jackets and knee areas of pants, where it is also possible to use knee pockets for inserting knee pads, and last but not least, with model portfolio and a wide range of sizes. Their added value is also a wide selection of accessory assortment of safety footwear, gloves and eye and hearing protection. The HANS collection product range will provide its customers with adequate protection and comfort for work both inside the production halls and outdoors at construction sites.
KEILOR
KEILOR workwear is designed for use in professional work environments, as well as for craftsmen and DIYers, thanks to its material composition, cut and accessories. A high elastic spandex content, as well as a higher material density, guarantee that the trousers are comfortable and pleasant to wear, as well as durable and long-lasting. Two multi-functional detachable side pockets provide a maximum flexibility for storing small tools and work equipment. Reinforcement of the stressed parts, including the possibility of inserting knee pads, make these trousers suitable even in extreme working environments. This mini collection of KEILOR trousers is suitably complemented by the HUYER softshell jackets and BOYER sweaters. Both models match the colour range of the work trousers perfectly, and they make the whole range suitable for leisure, as well as for work.
Nincs mivel összehasonlítani.